Where We Work Along the Entire the Strategy Continuum
We deliver organizational wide corporate strategy solutions –  from strategy development to evaluation; assessment  and re-formulation;  custom designed strategic planning workshops and coaching; facilitation of planning & visioning; 3-5 year plan writing or collation;  1-2 year Operational Plans; Work Plans; Program Plans.
Talk to us about a strategic facilitation solution when you've got the corporate strategy plan but need help with communicating and elaborating the strategy.
Whether you prefer LFA, Balanced Scorecard, Hoshin, Civicus, Haines Systems Thinking, or other planning approach we are competent to give you feasible, and doable plan at value for money.
We'll also work with you to get your program design right!
"A good plan is like a road map: it shows the final destination and usually the best way to get there " ~ H. Stanley Judd
Whether you call it virtual or remote strategy planning we were among the first in the business. We know the terrain and will deliver top-notch virtual or remote strategic planning solutions to suit your needs.
The image below illustrates where we serve in the strategy continuum including the areas in which we engage in execution.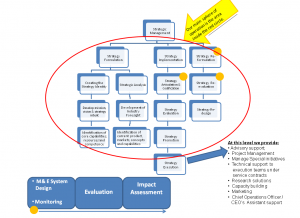 Please click on the image above in order to view or magnify.
A little on what we bring to each assignment — An extra pair of hands, new perspectives; processes and skills.
Expect: To bring your organization's future into the present and do something about making its condition; and ability to succeed better now.
"Planning without action is futile, action without planning is fatal." ~ Unknown