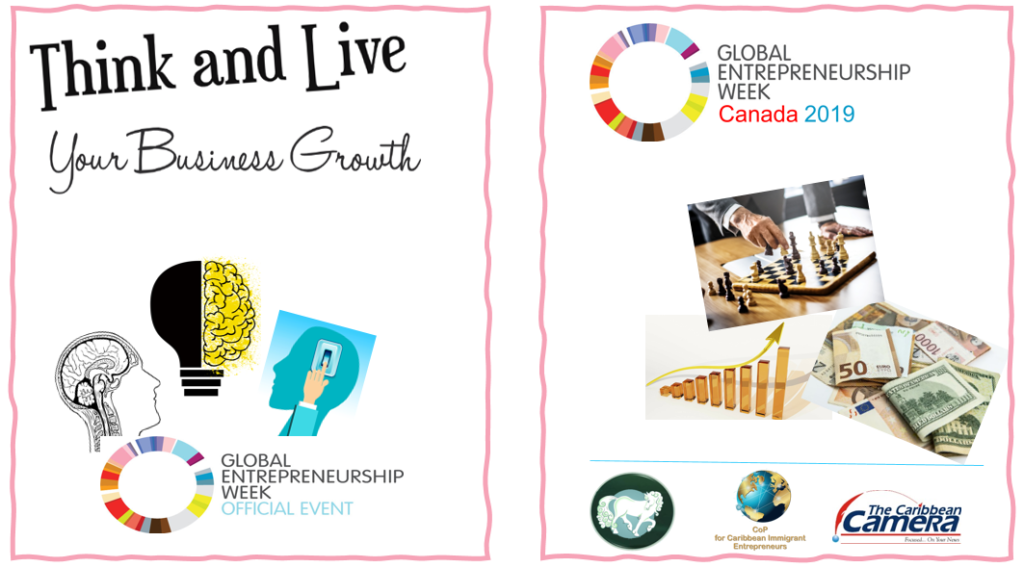 Magate Wildhorse Ltd., joins Global Entrepreneurship Network (GEN) and the global community in observing and celebrating Global Entrepreneurship Week 2019 (GEW 2019). This year GEW will be observed November 18-25.
We will host and help to coordinate activities for "celebrating, recognizing, and amplifying the voices of entrepreneurs".  In this edition of our GEW celebrations we have designed activities for removing some of the growth challenges faced by Canadian, Caribbean immigrant and diaspora entrepreneurs.
Listed below are five challenges and five events for helping you solve each of them.
https://www.genglobal.org/canada/think-and-live-your-business-growth-gew-2019
Challenge #1: Quality Customer Service
On November 21, 2019, we will bring you a highly interactive  workshop and dialogue for ensuring entrepreneurs can live the message propounded by IBM—  "you can't spell quality without an  "I" .  Come learn and share easy, cost effective ways for putting the "I" in quality service, as well as the other "I" —inclusiveness in your business and practice. Both are key ingredients in the rich blend of the spirit of entrepreneurship that our Caribbean diaspora, Canadian, and Black entrepreneurs must practice and promote.
We are talking about Quality Customer Service that is "reliable, reassuring, courteous, honest, demonstrates competence, looks good, is empathetic, and responsive"—and the only kind that will keep your business in business and on the scale-up path.
Join us for a workshop and dialogue on Quality and Customer Service.
Session focus: Frequently occurring challenges that fires or demotes Canada's Caribbean and Black Businesses. Top of mind, "There is only one boss.  The customer!  And he can fire everybody in the company, from the chairman on down, simply by spending his money elsewhere." (Sam Walton, founder of Wal-Mart).
Presented by: Meegan Scott and Janet Lewis of Dunamus Organizational Change Management Inc., (event partner)
Challenge #2: Building Community Wealth while Fostering Inclusiveness and National Unity:
Caribbean immigrant and diaspora entrepreneurs, we know that many of you have suffered from the barriers related to having less entrepreneurial skills (gained from owning and operating big businesses),  racism, and lack of funding. However, we encourage you not to erect barriers for any group when it comes to entrepreneurship. Join us for a session on exploring business models for making markets work better— for entrepreneurs, and entrepreneur support organizations.
In this session we will share approaches and examples, as well as deliver a clinic for reviewing or interrogating the logic and feasibility of  your plans, balanced scorecards,  business models, and  results chains.
This session will touch on how to integrate market systems development; and how to evaluate the results of your entrepreneur development programmes (For all Canadian entrepreneur development organizations, and groups of entrepreneurs working to grow their businesses).
Presenter: Meegan Scott, of Magate Wildhorse Ltd.
Challenge #3: Change Management for Driving Execution
A mini-workshop and discussion for helping you find solutions to your specific organizational challenges.
This session will be led by Janet Lewis, Dunamus Organizational Change Management Inc.
Challenge #4: Cooperating, learning, growing and building market linkages:
Strategy update Charrette

and input for The Community of Practice for Caribbean Immigrant Entrepreneurs and affiliate members – Toronto.  Members and entrepreneurs in other diasporic markets will have a chance to share their input ahead of the session in Toronto.
Brief overview of BIDEM 2020 diaspora Entrepreneurs Conference and Trade Show.
Led by Meegan Scott, Magate Wildhorse Ltd & The Community of Practice for Caribbean Immigrant Entrepreneurs
Challenge #5: Building Networks
Closing Mix "n" Mingle with surprise business opportunity
Venue: George Brown College, Toronto, Canada
The is an inclusive event, students of George Brown College, and Canadian entrepreneurs  with no Caribbean roots are welcome to join us.
Time: 9:00 am to 4: 30 pm  | Registration starts at: 8:30 am
Watch this space for other GEW activities brought to you by Magate Wildhorse Ltd, The Community of Practice for Caribbean Immigrant Entrepreneurs, their partners and collaborators Dunamus Change Management Inc, The Caribbean Camera, and George Brown College.
#GEW2019 #GlobalEntrepreneurshipWeek #GEN  #GEWCanada #GEWCanada2019 #GEWecosystems #GEWpolicy #GEWeducation #GEWinclusion #Live #Think #Grow #Curiosity #Creativity #Cooperate #Collaborate #Cocreate #Businesses #Startups #Entrepreneurs #Cities #Research