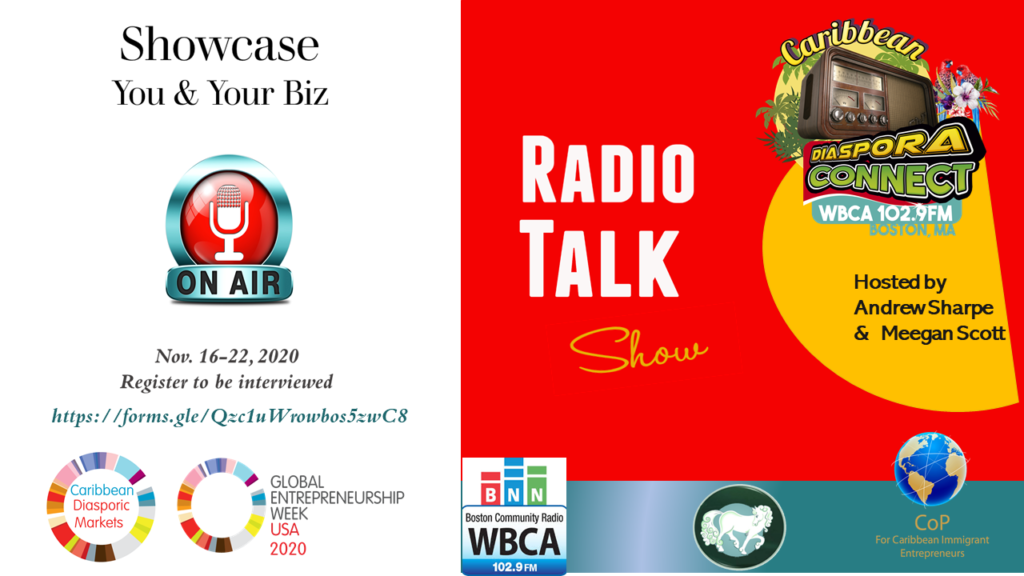 Join Magate Wildhorse Consulting, Caribbean Diaspora Connect, WBCA 102.9 FM,  and The Community of Practice for Caribbean Immigrant Entrepreneurs in celebrating and creating awareness around barriers to entrepreneurship and how to overcome them.
Join us during Global Entrepreneurship Week (GEW), November 16-22, 2020 for
Showcase You and Your Business.
Aired on: WBA 102.9A FM
Register your business for
A 2 min  Entrepreneur's Interview  plus
60 sec. give-away and sale for your solution of choice
If you've got Jamaica or Caribbean roots you are welcome to join us for the celebrations and interviews.
Deadline for Registration:  Saturday, November 14, 2020.
Registration Form (click the preceding link)
The show aims to let Caribbean diasporans put their fingers on on the problems that hold us back from growing mainstream sized businesses with that delightful ethnic flavour.
The barriers to be addressed are listed below.
The Barriers:
Of foreignness
Lack of trust and the image of Caribbean entrepreneurs
Access to capital and more so are we ready? [Time for business, opportunities in diaspora corporate citizen generated data, research a business opportunity]
Sparse networks ―including the missing social media superstars, the need and how to change that.
The need for Patrons to overcome the lack of experience
Collaboration and Civility ―self―inflicted business wounds.
Enterprising versus entrepreneurial 2020 and beyond.
Medical trials and biotechnology – Jamaica to diaspora opportunities
The programme will gather input to be including in the research  "Towards a Policy Framework for Accelerating Caribbean Entrepreneurship at Home and in the Diaspora".
Caribbean entrepreneurs in diasporic and domestic market are invited to share in the online forum at the following link:
Copyright © 2020 by Meegan Scott,  Magate Wildhorse Ltd .(Toronto), Magate Wildhorse Inc.,(New York). All rights reserved.